Verdura Shoes and Sandals are are eco friendly. Made in Tuscany with recycled/vegan materials by master shoemaker A. Verdura.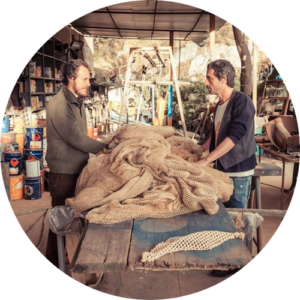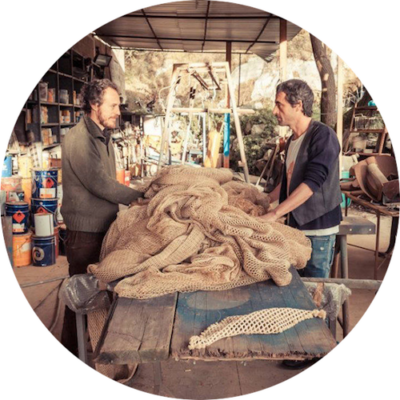 "We want everybody to feel what it means to walk "soul to soil" in a stylish, unique and affordable way. With our vegan shoes you can walk this way. "
From the first pair of mesh sandals created in an instinctive and basic way to a collection designed entirely by recycling this material brought from the sea.
The net has been reinterpreted naturally following the shape of the foot and the leg, combining it with natural and recovered materials, giving life to elegant, comfortable, practical and original models for women, men and children. The insole is anatomical, made of natural cork; the sole is available in two different versions, one made from recycled rubber and the other from recycled vegetable tanned leather.
A woman doesn't need clothes. She needs shoes
>Strain, vanity, seduction, power. Sex. Harmony with nature, the need of being part of a whole, together with the willing of not changing it. This has always been the input of my work. Byron Bay's atmosphere is still my inspiration. His contagious energy and freshness. The willing to communicate them with my work never left me. That's why Orgia di Verdura, my Logo-Topos, created like a graphic 'pattern'. It represents my philosophy. Where orgia is for love among humans, sharing of experiences. And, above all, a great joie de vivre."
We Use Eco Friendly materials for our vegetarian footwear
Here's the inspiring story behind Vegetarian shoes by Andrea Verdura: The European Union banned narrow gauge fishing net because it captured young fish and endangered many species. Andrea spotted pieces of net on the beach near his hometown of Piombino on the Italian coast. He picked one up, put his foot into it, out of curiosity, to see how strong it was and immediately recognized the shape of a sandal forming around his foot. He felt that he could make a sandal from this net, but realized he should soften it, to make it comfortable. We cut the net and wash it several times to soften the fabric. We dye it with natural pigments and then combine it with cork, recycled rubber sole and waste leather left over from shoe production.The insole is anatomic, made of natural cork.
Vegetarian shoes & Sandals Made in Italy for women, men and kids
"Everybody have a story: Mine is a walking story. In 1997 I was in Australia and my last pair of sandals broke down. I had no other choice than provide by myself. I found an old tyre and used it to cut out a sole. The rest came by itself. Once I completed the first sandal, I sadly discovered that I had to make another one, symmetrical. It was a real shock, step by step though I created the left one too. After that the shoe, as essence, extension of motion, was in my cardiovascular system. This way, from a basic input, a passion was born. And that passion turned into my job."